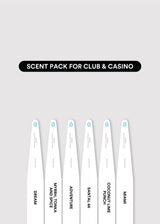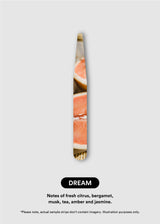 Clubs & Casino Bundle Sample Pack
---
The Product:
Our curate bundle sample pack for Clubs & Casino's includes: Miami, Santal 66, Myrrh Tonka and Spice, Adventure, Coconut Lime Punch, Dream  
Usage:
These best-sellers represent the finest from our broad range; from energising citrus, to the warmth and luxury of sensual woods, a fresh and invigorating zen garden and the sophistication of white tea. Relaxing and comforting scents increase patient comfort, staff satisfaction and patient and visitor perception of quality. 
Background: 
Diffusing luxury scent throughout your Casino, RSL, club or gaming area has many advantages. Scent helps to improve your guests mood so they enjoy themselves more. A pleasingly fragrant environment encourages guests to stay for longer and spend more money, it also increases dancing activity which usually leads to increased beverage sales. Perception of quality improves as people evaluate scented experiences as being of higher quality, and luxurious fragrance helps to build a stronger emotional association between guests and your brand leading to improved loyalty.
The Fragrances:
Miami
Comfortable, confident and energising, this scent begins with mouth-watering mandarin, fresh watery ozone and green cardamom notes supported by black pepper and musk will ensure your guests are relaxed and have fun while time flies. 
Santal 66
Luxurious, warm, and perfect for gaming rooms, this sophisticated fragrance features sandalwood, Virginia cedar, cardamom, violet, papyrus, leather, amber and iris.
Myrrh, Tonka and Spice
A warm and sensuous blend with an oriental feel. At the heart is the richness of myrrh & musk complimented by floral touches of heliotrope, magnolia & jasmine. 
Adventure
Passionate and a touch retro. Energising citrus caresses elegant florals and basks in sensuous woods and musks in this sophisticated fragrance. 
Coconut Lime Punch
Creamy and luxurious but clean and fruity at the same time. A never ending summer of parties and fun is possible with this sublime fragrance - zesty lime and creamy coconut make this scent irresistible.
Dream
Simple, elegant, aromatic accords of fresh citrus, bergamot, musk, tea, amber and jasmine are perfect for enhancing the pleasure of living in the moment.