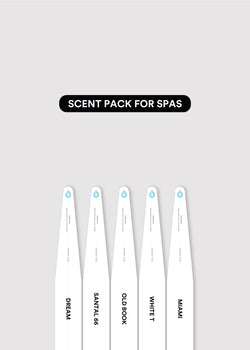 Massage & Spa Bundle Sample Pack
---
The Product:
Our curated bundle sample pack for massage and spa salons: Miami, Santal 66, Dream, White T, Old Book
Usage:
These best-sellers represent the finest from our broad range; from energising citrus, to the warmth and luxury of sensual woods, the elegant, aromatic accords of citrus and florals, and the freshness of linen in a fragrant country garden. 
Background: 
Fragrance goes hand in hand with spas, massage and relaxation focused businesses. Scent builds a strong emotional association with your clients and improves perception of quality. It induces a state of tranquillity and calm enjoyment when the best aromas are used and allows your guests to relax and enjoy the therapeutic benefits of massage.
The Fragrances:
Miami
Comfortable, confident and energising, this scent begins with mouth-watering mandarin, fresh watery ozone and green cardamom notes supported by black pepper and musk. 
Santal 66
Luxurious, warm, and perfect for inducing a state of relaxation and calm enjoyment, this sophisticated fragrance features sandalwood, Virginia cedar, cardamom, violet, papyrus, leather, amber and iris.
Dream
Simple, elegant, aromatic accords of fresh citrus, bergamot, musk, tea, amber and jasmine are perfect for enhancing the pleasure of living in the moment.
White T
A sophisticated white tea accord with refreshing bergamot masterfully united with the richness and warmth of jasmine and lavender.
Old Book
Fresh and joyful, Old Book infuses cucumber, eucalyptus and bergamot with artemisia, lavender and amber, supported by the rich warmth of Sandalwood and vetiver.