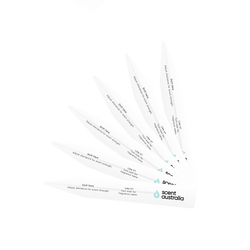 ---
 The Product:
Samples of our most popular citrus scent: Miami, Dream, Kiwi Coconut Vanilla, Our Lemon Tree and Limoncello.
Usage: 

Citrus creates an uplifting feel. Zesty and fresh, citrus scents bring an air of optimism and an easy elegance to any space. Alone it is light, summery and feminine. But paired and balanced with spicy, floral and woody notes, the dynamic transforms and we get the energy and class of Miami, the seductive tone of Dream, or the hint of a blooming garden in Our Lemon Tree.
Background:
Citrus fragrance has a rich and colourful history dating back to the 10th century. It became a universal scent in the 17th century when the world's first eau de cologne—containing lemon, bergamot, petit-grain and neroli—was developed. Sometimes called 'liquid sunshine', scientific studies have shown that citrus scents have a positive effect on physical, mental, and spiritual wellbeing and can help reduce feelings of anxiety and irritability.
Additional Paragraph:

Citrus scent transports us to summer, holidays and the pleasure of simple joys, like plucking a ripe tangerine, peeling it slowly, and eating it slice by slice while basking in sunlight.
This is a premium fragrance that begins with mouth-watering mandarin, fresh watery ozone and green cardamom notes. The scent is supported by black pepper and musk to create a comfortable and confident atmosphere. This scent is slightly masculine and injects a sensation of energy and class.
Our highly seductive fragrance with simple, elegant, aromatic accords of fresh citrus, bergamot, musk, tea, amber and jasmine.
Kiwi Coconut Vanilla 

(Local)
This transcending aroma embraces Pineapple, Apple and Coconut. Promoted by Kiwi and Vanilla, this fruity fragrance performs in all settings.
Our Lemon Tree omits zests of Lime, Petitgrain and Cardamom to create a zestful infusion. Middle notes include Green Tea and Coriander to enable earthy perfumes. White Musk, Cedar and Rose sit among the garden bed that runs parallel, and offers a hint of floral savour.
The leading notes of this aromatic creation are Lemon, Myrtle and Thyme Heart. A sweet stir of Fig & Lavender are balanced by Cedarwood, Musk and a pinch of Patchouli.