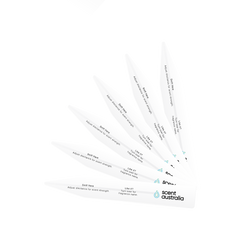 Woods Pack - 5 Wood Scents
---
The Product:
Samples of our most popular woody scents: Santal 66, Old Book, Mahogany Wood, Sensual Woods and Earth.

Usage: 
Wood scents invoke a powerful, mysterious, and luxurious theme. They often lean towards the masculine and are popular in dark color themes— think crimson, midnight blue, emerald, aubergine and charcoal. Woody notes are rich and warm, add a hint of sensuality to the colder months, and can be extremely grounding, with an aroma that brings us closer to a walk in deep woodlands. Comforting woody scents can help put shoppers in the mood to indulge themselves.

Background:
Woody fragrances have been used for thousands of years, as perfume, in ritual and for healing. They are derived from nature—trees, roots, resins and pine cones, plus plants with an earthy aroma. Whether used alone, or lifted with citrus or light floral scents, wood ingredients add richness, warmth, elegance and a depth to a fragrance and are key to delivering a strong base in perfume making.
Additional Paragraph:
Autumn and Winter are the perfect time to opt for rich, warming woody fragrance. Leaves turn russet and gold, fall and decay, and the air is filled with an earthy aroma and smokey hints from distant wood burning fires. As the temperature drops we gravitate indoors, and light spicy scented candles and warming fires as we crave comfort and small pleasures.
The fragrance features sandalwood, Virginia cedar, cardamom, violet, papyrus, leather, amber and iris.
Old Book opens the page with top notes of cucumber, eucalyptus and bergamot. By the second chapter, infusions of artemisia, lavender and amber are written in bold. Sandalwood and vetiver fall on the final page, leaving the reader with a jovial feeling that follows them all week long.  
Top notes are Artemisia, Bergamot and Cardamom; a strong heart of rich mahogony wood, rounded with base notes of Vanilla, Tonka Bean, Amber.
A warm and most luxurious fragrance, highlighted with the comfort of sandalwood; jasmine, blondewood, orris and rich musks combine to create an aura of confidence and trust.
Earth is a matrix that speaks of territory as well as matter, earth, and roots. This vertically structured scent is based on an alchemy of wood, a gaity of orange, the bitterness of grapefruit and the vivacity of pepper and of fresh spices. Vetiver, benzoin and resins fuse their fragrant profiles to cut-through the deep cedar to complete the naturally-derived infusion